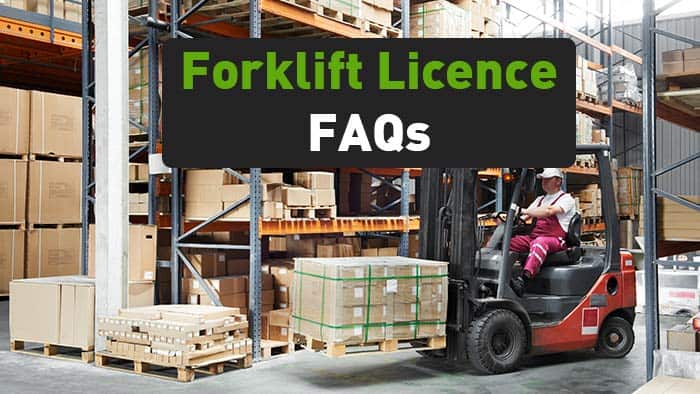 How long is a forklift licence valid for?
The good news is that a forklift licence is valid for 5 years. After this, it must be renewed online, and Workplace Health and Safety (WHS) will send a new High Risk Work licence card valid for another 5 years if you are still competent.
If I get my forklift license with you, is it national?
Yes. All High Risk Work Licences are valid in all states and territories in Australia.
Can a forklift licence be renewed online?
Yes.
What types of forklift licences are there?
There are two classes of licence needed for forklift-related work.
Forklift truck – LF
Order-picking forklift truck – LO
Let's discuss the two in more detail.
Forklift truck – LF
(This is the most common forklift, usually a counter balanced Forklift Truck)
The LF high risk work licence class allows you to use forklift trucks but does not include order-picking forklift trucks (see below).
A forklift truck is a powered industry truck the mining and construction industry uses to move materials and loads over short distances. According to Wikipedia, the forklift was developed in the early 20th century.
Order-picking forklift truck – LO
Similar to the forklift truck (LF), in order to operate one of these, you will need a LO high risk work licence.
You will see these types of forklift trucks in Bunning's and around workplaces. These have the operators controls built into the lifting equipment.
Many refer to these as 'stock picker's as they are used to move stock around warehouses, making the life easier for everyone.
Some of the most spectacular forklift 'bloopers' are from order-picking forklift trucks.
Click play on the video below to view a order-picking forklift truck in action.
Are forklift licences tax deductible?
They can be tax-deductible depending on your work situation eg if upgrading your skills within your current work role, However, you must check with your accountant. We are not tax advisors.
What happens when your forklift licence expires?
When your Forklift licence expires, you cannot operate a forklift until it is renewed with Work, Health and Safety QLD online. You have 12 months to renew your licence. Beyond 12 months, you have to complete the full course again, then reapply for the High Risk Licence.
Who needs a forklift licence?
Any person who operates a forklift in Australia. The only exception is if you are working in the Resource Industry (Mining, LNG etc.) where you can operate under the QLD Coal Mining ACT in which you need a Statement of Attainment for RIIHAN201 Operate a Forklift (within 5 years).
Do I need to keep a logbook during my forklift training?
No, it is not a requirement, however, the RTO you have enrolled with may utilise a logbook within their training plan.
Can I use an overseas forklift licence in Australia?
No, you must have a Workplace Health and Safety (WHS) High Risk Work Licence to operate a  forklift in Australia.
What are the prerequisites for getting a forklift licence?
They are no Pre-requisites to enrol in a Forklift course, other that be 18 years of age or over.
As you can see, there are many benefits to getting your forklift licence.
You can find out more about our Forklift Licence Course here.
Momentum High Risk Training works in partnership with MyneSight Pty Ltd (RTO No. 31900).