You've probably seen an overhead gantry crane but never realized what you were looking at. In this post, we'll discuss everything you need to know about one of the most useful pieces of machinery ever built.
Gantry cranes are used for a wide variety of applications and in a variety of industries.
If you're considering a career in overhead gantry crane operation, then you will find a suite of useful information here. Or, if you think a gantry crane may be useful for your project or business, then be sure to read through to the end.
What is an overhead gantry crane?
A gantry crane is a type of overhead crane that sits on top of a structure that straddles an object or workspace.
This structure is called a gantry, hence the name gantry crane.
Gantry cranes range in size from small shop cranes, used to lift and move objects such as automobile engines, to "full" gantry cranes that are capable of lifting extremely heavy loads.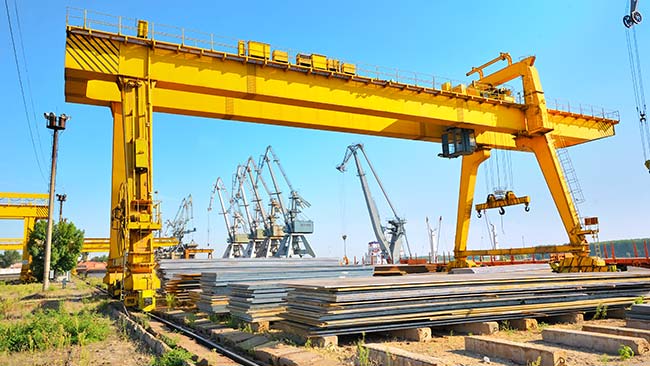 Industries that use Gantry cranes
Overhead gantry cranes have a lot of uses, from small to large jobs and projects.
Here are a few industries that use gantry cranes:
Automotive industry and gantry cranes
Automotive manufacturers use gantry cranes to move their products from one station to another. In smaller repair shops, repair technicians use smaller gantry cranes to lift engines for repair or replacement.
Click play on the impressive Tesla production line video below to see how many gantry cranes you can spot being used.
Shipbuilding and gantry cranes
Building large ships requires the movement and installation of many large parts and the use of large tools and equipment. Shipbuilding, as we know it today, would be extremely difficult without the use of overhead gantry cranes.
Below is another mind-boggling video of setting up a gantry crane for the shipping industry.
If these styles of construction and mega-machinery excites you, then you must get your 'How to operate a gantry crane' certification.
Railroad Shipping and Freight
If you live near a railroad or drive past a freight terminal, you may have seen a gantry crane loading or unloading shipping containers from railcars and ships.
Shipping containers can weigh hundreds of tons, but gantry cranes make the moving of these large and heavy containers much easier.
Click play on the video below to see how the Sydney Freight Terminal has upgraded their gantry crane technology. You will notice figures of how much faster they can work and process shipping containers with ease.
As you can see already, the opportunities that exist in this industry are endless.
Just imagine how many freight yards, automobile workshops or shipping companies need to upgrade their gantry crane systems.
For those who are qualified in this space, you will be in high demand for the foreseeable future.
Types of gantry cranes
Depending upon the application, gantry cranes are classified into several different categories.
Here are several types of gantry cranes and their uses.
Adjustable Gantry Cranes
This type of gantry crane is extremely useful when moving loads of varying weights and sizes.
Adjustable gantry cranes can be either fixed or portable, and the base width, height, and horizontal beam length can be adjusted according to the load requirements.
Single Girder Gantry Crane
This type of crane is designed with a single girder and rail located on the underside of the bridge and is suited for areas with small or limited floor space and low-headroom.
Single girder gantry cranes are ideal for lifting and moving light to medium loads.
Click play on the video below to see the difference between a single girder gantry crane and a double girder gantry crane.
Full-Gantry Crane
This is the most common type of gantry crane and is used for moving heavy loads.
Full gantry cranes have two supporting legs that move across fixed rails.
Vehicles can pass under the crane where payloads can be loaded or unloaded.
These cranes are extremely useful in industries were heavy payloads need to be moved along a fixed line or location such as in assembly-line production.
What is gantry crane training?
Gantry crane operation requires some fairly extensive training, especially in the areas of safety and rigging.
A career in overhead gantry crane operation can be a very lucrative career choice.
At Momentum HRT, we specialise in qualifying people with a 'How to operate a gantry crane or overhead crane' certification.
The gantry crane qualification will give you the skills needed to successfully apply for jobs across Australia.
No matter if you feel the bigger lifting projects inspire you or if you prefer to know how to use gantry cranes for smaller applications, then gaining this qualification will give you the best opportunity for success.
But prior to getting this qualification, there are some pre-requisites you need to tick off before you can complete this course. Click here to view the pre-requisite needed for this course.
Our course is conducted over a full day (8am-4pm) and contains both the theory and practical elements.
What you will cover in the gantry crane course:
Size and characteristics of cranes
Operational modes
Emergency shutdown procedures
Lockout/tag-out requirements
Control labelling and conditioning
Warning and capacity labelling
Emergency stop function
Operation of a hoist, bridge and trolley
Load control and operation safety
Load block, hook and latch
Determining load weight
Avoiding side pulling & load swing
Conducting a hoist brake check
Understanding load path and personal safety
Floor capacity for load placement
Regulations in Australia for operators
How to source the Crane manufacturer's instructions
Functions and limitations of cranes
Gantry crane maintenance and records you must keep
If you want to increase your earning capacity or you just want to increase your job opportunities, then gaining the gantry crane operator qualification will help immensely.
You can find out more about our Gantry Crane Operator Course here.
Momentum High Risk Training works in partnership with MyneSight Pty Ltd (RTO No. 31900).