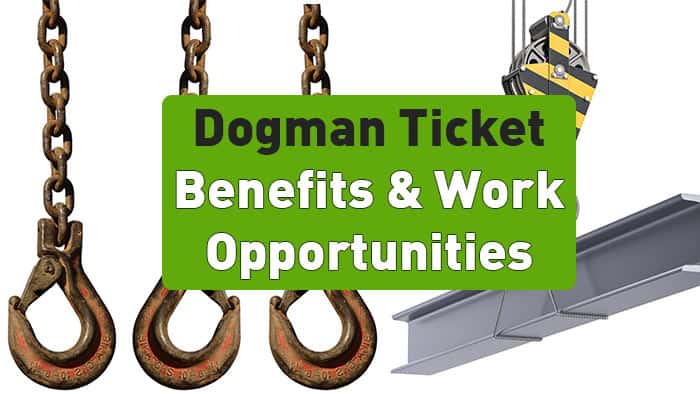 You can now train with one of Mackay's best training facilities to get your Dogman Ticket / Licence in Queensland, to open yourself up to the many opportunities available in this industry.
Our head trainers have been involved in the mining and construction industry for nearly 25 years combined. This means you will be trained by the very people who have been working on the same or similar worksites to you.
What is a Dogman ticket /Licence and what is dogging?
According to Worksafe Queensland, dogging consists of two main parts:
the application of slinging techniques including the selection and inspection of lifting gear to safely sling a load
the directing of a plant operator in the movement of a load when the load is out of the operator's view.
The crane operator needs to be able to lift light to extremely heavy objects (the load) from one location to the next.
A dogman will be able to safely identify the weight and centre of gravity and identify the best method to sling that object up to the crane.
There is a lot of judgement and expertise involved as every object is different and the surface of the object is different each time too.
Often, the crane operator is unable to clearly see the movement of the load and as a result, the dogman will also have a series of whistles for communication.
This allows for the safest path, allowing the load to be moved with confidence and without hitting anything.
Benefits of getting your Dogman ticket in Queensland
The benefits of getting your dogman ticket in Queensland are numerous.
First of all, the mining and construction industry requires a never-ending number of qualified doggers. So, your job opportunities are abundant.
Secondly, this is one of the most common tickets held by people you see on construction sites, with some statistics indicating up to 70-75% of workers have their dogman ticket. Therefore, if you are wondering which ticket most have, it would be the dogman ticket.
Thirdly, a doman ticket / licence is inexpensive. Our dogman ticket training course here in Mackay is just $1,650, which covers the full 5 days of theory and practical training.
When you consider the employment opportunities a dogman ticket opens you up to relative to the investment, it is a no-brainer.
At Momentum High Risk Training, we conduct as many as two 5-day dogman ticket training courses per month.
Dogman whistle and hand and signals
Our dogman training courses teach you all the dogman whistle and hand signals you need to move your load from A to B, in coordination with the crane operator.
Also, you will know how to plan and inspect all lifting equipment and have a range of systems in place to take to any construction site.
What about renewing a dogman licence?
Once you successfully gain your dogman licence, you will need to renew it every 5 years.
You can find out more about our Dogman Ticket Course here.
Momentum High Risk Training works in partnership with MyneSight Pty Ltd (RTO No. 31900).